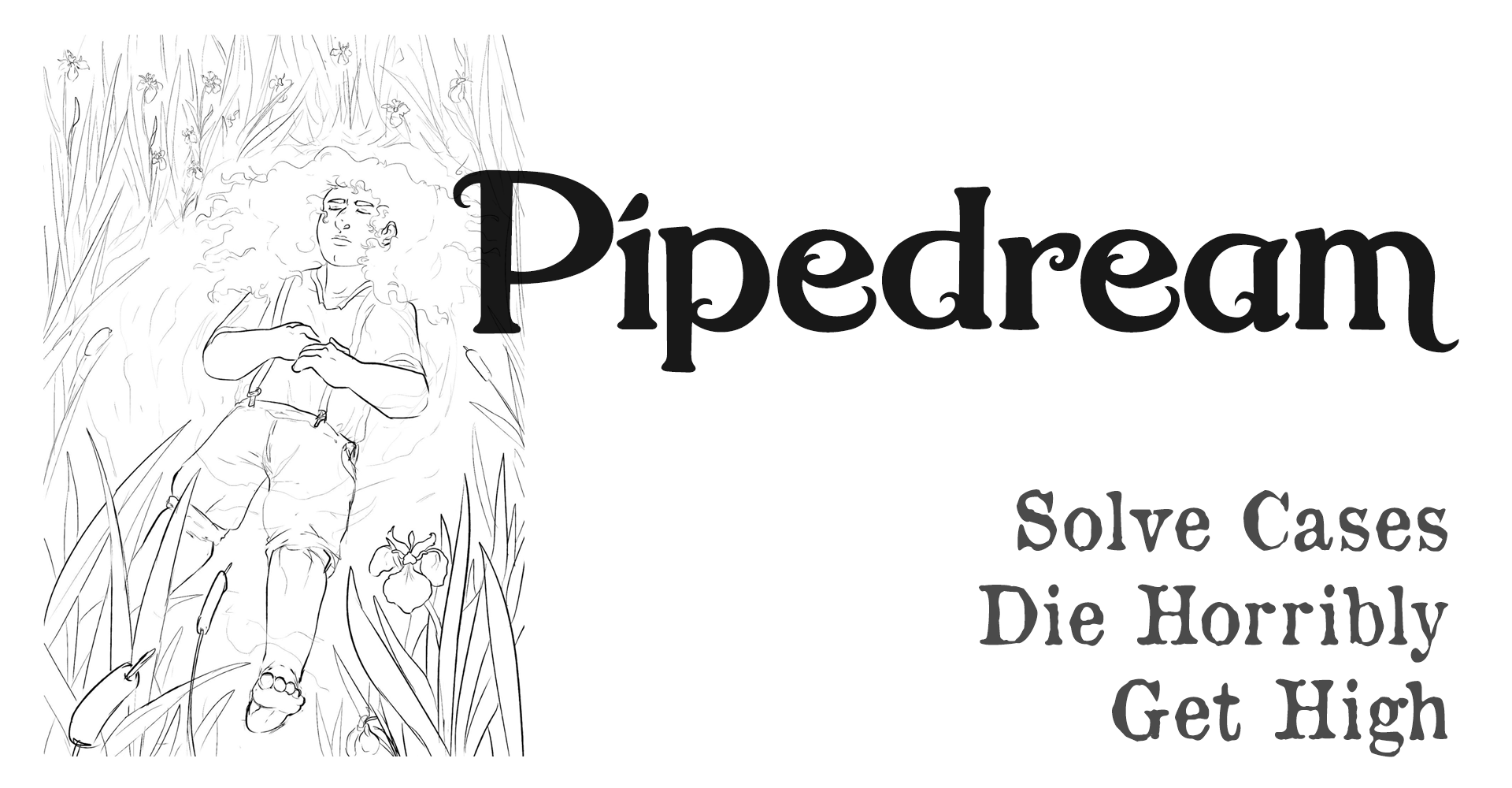 Pipedream
A downloadable tabletop RPG
PIPEDREAM is a #SWORDDREAM roleplaying game of detectives, problem-solving, and rural mysteries in a fantastic world; or a farcical drug comedy. You may play it as both.

The game is played as a conversation between a Referee and 1-4 Wisefellows (halfling detectives). The Referee describes the scenes and supporting characters, and presents problems and threats that players are faced with. The other players portray the Wisefellows and decide on their actions as they experience surprising adventures in the world of Irisfields.
PIPEDREAM is not meant to be an accurate depiction, or endorsement, of smoking or any other kind of recreational or shamanic drug use.
A complete tabletop roleplaying game based on Cthulhu Dark.
Rules for creating irascible scoundrels who do not belong anywhere near a crime scene, and sending them off on their first (and potentially last) case.
Two kinds of risky magic: Elder Weed (smoked in pipes) and Words of Power (did someone say "Elbereth?").
Dual-wielding rules (for smoking).
The Tolkienesque setting of Irisfields and Beyond.
Jovial giants, clever giant spiders, whispering irises, fierce gay fire crows and other fauna and flora of the world.
Referee advice for little mysteries.
Each Wisefellow player will need 3 six-sided dice, 1 of a different colour or size to represent the Dream die. Everyone needs something to take notes with.
2-3 hours to play (4+ hours if more than 2 Wisefellow players).
Suitable for one-shots and campaigns.
PIPEDREAM is adapted from Cthulhu Dark with permission of Graham Walmsley. It was created for the #DREAMJAM (2019) and embraces the principles of the *DREAM movement.
Other influences on PIPEDREAM include Beyond the Fence, Below the Grave by T AKW, Trophy by Jesse Ross, Ghostbusters by Sandy Petersen, Lynn Willis and Greg Stafford, Apocalypse World by D. Vincent Baker and Meguey Baker.
We also recommend the Halfling random table zine With Regards to the Good Folk Upon the River by Goatman's Goblet, a supplement that was inspired by PIPEDREAM!
For some terrific visual aids and marsh botanical resources, we suggest Globetrotter's Guide to Greenery: Freshwater Marshes.
---
Watch PIPEDREAM run on Gauntlet Hangouts by Charles Cordingley!
---
Watch PIPEDREAM run on Gauntlet Hangouts by Lowell Francis (Part 1)
---
Watch PIPEDREAM run on Gauntlet Hangouts by Lowell Francis (Part 2)
---
Game Jam | DREAMJAM
Game Design | Kai Poh (@tunkaipoh)
Graphic Design & Layout | Elisha Rusli (@elisharusli)
Illustrations | Farid (https://farideacs.xyz/) | S.C.M.
Cartography | Brian Richmond (@goatmansgoblet)
---
Website | www.roleoverplaydead.com
Social Media | Facebook | Twitter | Instagram | YouTube
---
"Overall, Pipedream is a game with a simple, smart set of mechanics, great character creation, and a fascinating setting to explore. I'd say it's main strength is how the carefree whimsy of the Wisefellows and their adventurers can turn so quickly grim in the face of malevolent outsiders and internal conflict. " - T AKW, designer of Beyond the Fence, Below the Grave.
---
"#Pipedream is a great, wryly comedic concept: a kind of hobbit Pinkerton outfit called the 'Wisefellows' who try to solve cases while getting high on pipeweed. Lots of neat ideas in the beta. definitely worth picking up. " - Cyrano Johnson, author of Space Princess.
---
"Just bought a copy of @tunkaipoh's #Pipedream & it's one of the most charming RPGs I've ever read. Charm is so hard to pull off w/out getting twee & there's this looming dread & melancholy lurking just beneath the rustic stoner idyll (which itself isn't all its cracked up to be). " - Jeremy Duncan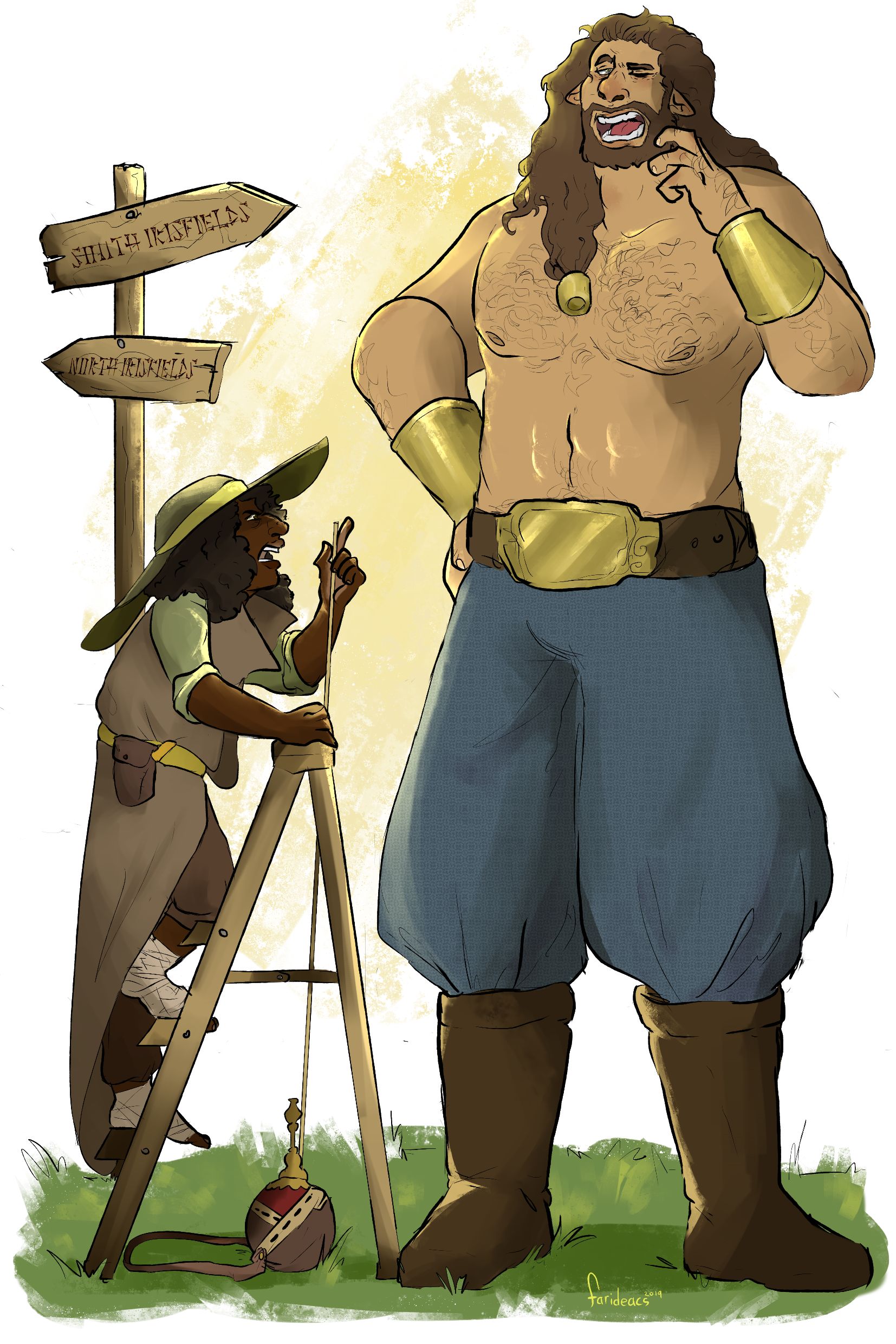 Purchase
In order to download this tabletop RPG you must purchase it at or above the minimum price of $5.99 USD. You will get access to the following files:
PIPEDREAM Beta v1.4.pdf
3 MB
Brian's_Golden_Fields_Map (lower-res).pdf
426 kB
Download demo